Ambassador for Retired Greyhounds Trust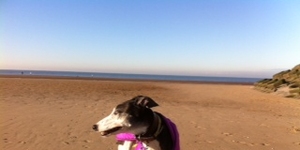 It has just been announced that Dr. Julie Bradshaw MBE is to become an Ambassador for the Retired Greyhounds Trust (RGT).
The phone call from RGT came out of the blue only a couple of days ago. Having recently lost her beloved greyhound, 'Lady Molly Grey' to osteosarcoma this year, Julie was absolutely over the moon and accepted the role  immediately.