Blackpool Pier Swim 27th July 2019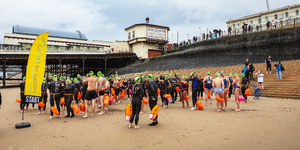 The Annual Official Blackpool Pier Swim organised and run by Get Set 4 Success (Events) was held on 27th July, 2019 and was again a huge success.
The venue was the superb Sandcastle Water Park. With twice the number of participants, the Event Organiser Julie Bradshaw was delighted that everyone enjoyed the day. This year the swim hats were sponsored by Ribby Hall with the invaluable support for the water safety cover from Blackpool Council Director, John Blackledge and the highly experienced Blackpool Beach Patrol under Richard Williams. Each swimmer received a bespoke plaque, t shirt, a commemorative swim hat, plus a complimentary tram ride to the start provided by Blackpool Transport.
Well done to all swimmers who came from far and wide including Switzerland. Great coverage by the Gazette and photos and videos thanks to Gregg. Check them out below:
BLACKPOOL GAZETTE 29TH JULY, 2019