Channel swim under six hours for Julie and home start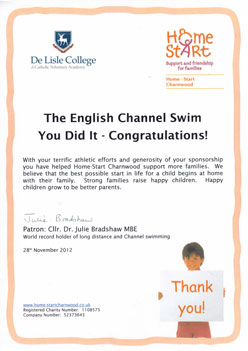 Dr. Julie Bradshaw has gone to great lengths to help raise much needed funds for Home Start Charnwood, a charity which provides support and friendship for children and their families. Julie, as Patron of Home Start suggested the idea of teaming up with a local school in a sponsored Channel swim.
On Wednesday 28th November, 2012, Julie was joined by students from De Lisle College in Loughborough in an attempt to complete the 21 mile distance of the English Channel in a 'school day' over a period of five lessons in their college pool which began at 9.45am.
Enthusiastic students took part swimming laps in relay throughout the day, whilst Julie notched up a few miles of her own to add to the increasing total. Finally at 3.30pm after an astounding team effort by students in all ages, the final swimmer 'landed'. The pool was filled with applause from the staff and volunteers who had been there all day and had made the event possible.
What was even more amazing was the time taken. An incredible sub six hours! Compare that to the English Channel record which currently stands around 7 hours. It was an amazing day and great to see all the participants keen to complete the challenge and raise much money for Home Start in the process. Each swimmer was awarded a certificate for their efforts.
To make a donation to this very worthwhile cause please visit
www.home-startcharnwood.co.uk/donations
You can also send a Text to HSCH46 to70070         £2/£5/£10     eg. HSCH£2
Watch this space for the amount raised by De Lisle College students!