Dog Safe Area – BBC Radio Leicester & East Midlands TV 2018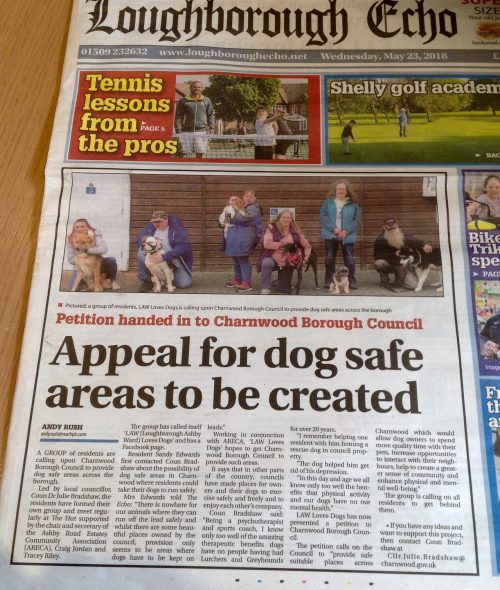 Local councillor Julie Bradshaw has recently handed in a petition on behalf of the residents on Loughborough Ashby Ward, calling for a dog safe area.
Across the Borough of Charnwood many open spaces have bans on dogs running freely. Increasingly people are calling for areas where they can exercise their dogs safely off leads. Dog safe areas would also provide a place for dog owners to meet and help the well-being of many residents.
Cllr. Julie Bradshaw and Craig Jordan recently met with both BBC Radio Leicester and BBC East Midlands Today TV explaing the campaign for residents of Charnwood in Leicestershire.
BBC East Midlands TV and BBC Radio Leicester interviewed both Cllr Bradshaw and Craig Jordan who with Tracey Riley run The Hut, the local community organisation – ARECA (Ashby Road Estates Community Association)
They also spoke with BBC Radio Leicester the same morning and Rob interviewed them