Dr. Julie Bradshaw MBE Awarded ELF Award (European Lung Foundation) for helping others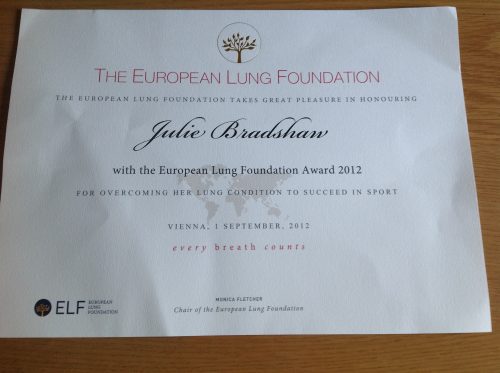 Dr. Julie Bradshaw MBE, who suffers from asthma, has been awarded the European Lung Foundation Certificate for her inspirational work during World Spirometry Day, June 2012 for helping others. They have written to Julie thanking her for her recent contribution to the World Spirometry Day in June 2012.
ELF thanked Julie for sharing her success story despite living with a lung condition which they commented on as being a truly remarkable achievement. The European Lung Foundation told Dr. Julie Bradshaw MBE that her attitude makes her a positive role model to all both with and without a lung condition.
The Annual European Lung Foundation Award (ELF) was given to Julie for her success and to thank her for all her dedication to the campaign over the months. The ELF Award is given to a group or individual who has made an exceptional contribution to lung health. By sharing her story, Julie, as a nominated Lung Champion has helped to encourage thousands of people across the world to enjoy the benefits of exercise, despite living with a lung condition.