Get Set 4 Success helps sponsor Little Lives Appeal May 2011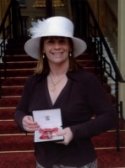 Dr. Julie Bradshaw MBE has offered her services as a motivational speaker in aid of the Little Lives Appeal which raises money for the Special Care Baby Unit in Milton Keynes. Julie has donated 'an evening' with her as one of the auction prizes at this event. She is also working in conjunction with the Discount Football Shirt Framing, from the Picture Framing Centre (PFC), Blackpool. PFC are framing a Boxing Glove (signed by Amir Khan and Frank Bruno) as well as other items. These two 'attractions' from Get Set 4 Success and The Picture Framing Centre, Blackpool totalling well over £4000 will be auctioned off on the evening to raise the funds for Little Lives.
About the Charity
MedicsWhoMocha, Social Networking Group for Women in Medicine is collecting for the "Little Lives Appeal"- Fund raising for the Special Care Baby Unit at Milton Keynes Hospital.
The Neonatal Unit helps save the lives of over 350 premature and critically ill babies born each year. Vital equipment and an appropriate environment are needed to provide the most sophisticated care to these special patients.
Babies admitted to the Neonatal Unit receive intensive, high dependency and special care. Neonatal or 'special care' babies are often called miracle babies, and their lives frequently depend on advancements in modern medicine.
The Little Lives Appeal aims to raise £250,000 for the Neonatal Unit, which will go towards a full refurbishment and redesign of the Unit.
The Event
The Event will be 'Hollywood' themed with a Charity Raffle and Auction.  It will be held on May 14th 2011.  The tickets will be priced at £25 per ticket.  This will include a 3 course buffet meal and disco.  It will be held at De Vere Harben  in Newport Pagnell.