Get Set 4 Swimming Lead Coach in H2O Magazine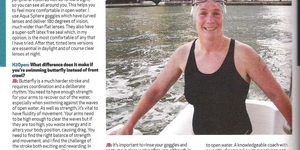 This month's H20 magazine features the lead coach of Get Set 4 Swimming, Dr. Julie Bradshaw MBE. Nicknamed the 'Madfish' because of all her swimming events over the years, Julie talks to H20 about why it is important to choose the right kit for open water swimming.
Julie, who has been using Aqua Sphere swimming equipment for many years now shows why she has as well as explaining about various swim training tools.