Julie and Team Smash 4 World Records for Rainbows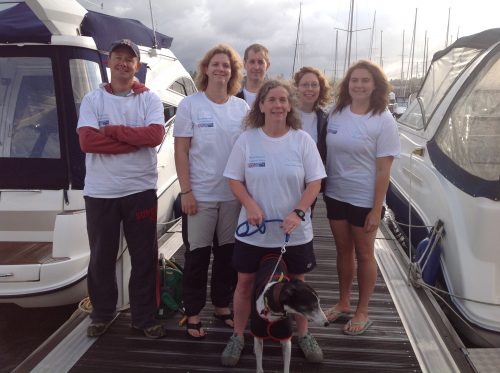 Between 11th and 14th August Dr. Julie 'Madfish' Bradshaw and her swimmers attempted to become the first team in the world to achieve 14 lengths of England's largest lake, Windermere (10.5 miles each way). Back in 2007, Julie's Ladies team had began the idea of multiple swims of Windermere completing the first ever Six Way Windermere swim in 32 hours and 32 mins which still stands as the world record and 'Madfish' Julie herself had swum Windermere solo four ways in 1981.
At 810am Julie and her International Team, began the daunting challenge, and what a swim it was to be. They were doing it for Rainbows Children's Hospice and in memory of Julie's friend, Susan Taylor, who tragically died attempting to swim the English Channel in July 2013.
Julie's was an International team comprising Bridgette Hobart (USA), Georgina Tuffin (UK), Lisa Auchinvole (UK), Andrew Koval (Australia) and Danny Bryson (UK). All swimmers were either accomplished solo English Channel swimmers or with Channel swims coming up
They started on Monday 11th at around 8.10am and fought bravely against Hurricane Bertha winds and torrential rain. After 7 legs, they were well on course for a new world record for a 12 way and no doubt the longest freshwater relay record in the world. Julie's amazing team was 3 hours ahead of the previous time when nearing the end of their 11th leg (57 hours in the water and over 116 miles covered of the 147 mile swim) when one of the team members became ill and collapsed.
That team member was taken to shore and paramedics called to check them out. Fortunately, the swimmer was given a satisfactory 'bill of health' after the ordeal. The swim was obviously aborted due to health and safety reasons.
However, Julie and her team are delighted to have raised so much money for Rainbows. For further donations please visit the Team Just Giving page: