New Guinness World Record for Julie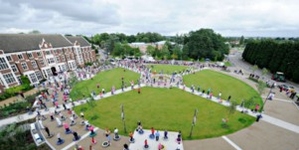 Dr. Julie Bradshaw MBE has just found out that she has made her 21st World Record not swimming, but by being one of 302 people who bounced on a mini trampoline.
On July 3rd 2012, as part of the events of the Olympic Year, Julie joined many others at Loughborough University in an attempt to beat the previous record of 287 people bouncing on a mini trampoline at one time. The event was organised by Becky White of Onesixeightfitness and took place outside the Hazlerigg Rutland building on campus, a beautiful setting for such an occasion.
On the signal all 302 participants, including Julie began to bounce on the mini trampolines for 5 minutes without stopping. There was fun and laughter throughout and cheers when the time was up. Judges were in place because of the stringent rules of Guinness.
Dr. Bradshaw is delighted to be able to add this to her string of swimming records – a new World Record Holder for the most amount of people bouncing on a mini trampoline at one time. Congratulations on a superbly organised event and to all those 302 participants, now world record holders, who really did make this happen.