POP-UP Skatepark a Huge Success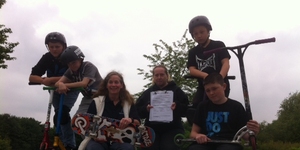 A POP-UP skatepark which was today installed at Shortcliffe Park on Ashby Ward, Loughborough proved a huge success for the local community. The young people appeared at 11am and continued throughout the day. Residents also attended and their views were recorded since this event was a tester before a permanent one is to be set up.
BMXs, skateboards, helmets and pads were available to hire for free and even the local councillors got involved. Cllr. Dr. Julie Bradshaw MBE Ashby Ward Councillor has been campaigning since 2012 for such a facility for the young people in the area. She continued, "Back in 2012 both residents and young people approached me. Having lived on Ashby Ward for over 26 years, I was fully aware of the resident's concerns when they told me about problems that the young people were causing in and around the shops on their scooters and bikes. At the same time the young people in the area spoke to me saying they had nothing to do and nowhere to go.
As a result I met with an officer from Charnwood Borough Council and from there the project has gone forward. The young people have played a major role in many of the meetings and I am so delighted after all the hard work that this looks like it is going to become a reality. "
Working with various partners Cllr. Bradshaw has been instrumental with Charnwood Borough Council and ARECA (Ashby Road Community Association) in securing £48,000 funding to pay for the installation of a permanent skatepark, part of which (£15,000) has come from a donation from Loughborough University.
Of today's event, Cllr. Dr. Bradshaw MBE said it had been a very successful and fun day. Together with her colleague, Cllr. Mary Draycott MBE, Julie had even been on a skateboard, which is something different that her usual mode of physical activity ie. swimming through the cold waters of the English Channel!
"The young people loved the POP-UP skatepark", said Julie. The event was attended by the local press and their photographers, as well as being on BBC Radio Leicester. For more photos, visit Julie's facebook page.