RAINBOWS 24 hour Swimathon – a week on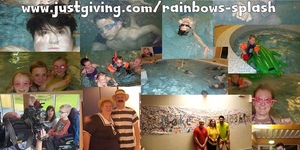 On Friday 29th November, as part of GEM 106 Make A Splash appeal, Dr. Julie Bradshaw MBE entered the waters of Rainbows Therapy pool at midnight with 3 others to begin the 24 hour Swimathon. The aim was to swim the length of the River Soar (59 miles) in the 24 hours and raise as many funds for Rainbows Hospice as possible.
The event was organised by Philip Yorkstone, the pool coordinator at Rainbows. Staff, family and friends of Rainbows swam throughout the night and day and had a magical time doing so. Swimmers gave readily of their time to make this event such a huge success especially as it was taking place in memory of Susan Taylor, who had tragically died attempting to swim the English Channel back in July 2013. Susan had been swimming in aid of Rainbows so this event was such a fitting tribute to her.
The local media covered this event both radio and television which spurred swimmers on even more to their final goal. What was amazing was the target of 59 miles (the River Soar) was actually reached a couple of hours before midnight, so the 'team of swimmers' pushed on further.
Julie joined the last group of swimmers again till they finished at midnight. They swam to the music of Queen, so apt "We are the Champions" and everyone threw their arms in the air when they finished the last lap.
"It was an exciting moment when that music was playing and seeing the joy on everyone's faces with that last touch – Susan would have loved this event and I am so pleased to have been part of it," said Julie.
The swimmers reached not only the target swim distance but also the amount they wanted to raise. In fact, donations have exceeded £1000 and you can still contribute by visiting: