Scotland Openwater Channel Swim Training Camp a Huge Success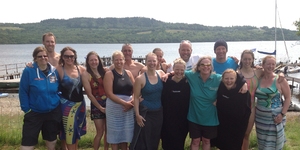 The recent Open Water and Channel swim training boot camp run by Dr. Julie Bradshaw MBE in conjunction with Chris Sifleet of Swim4Miles proved a huge success for those swimmers who attended between 11th and 15th July.
Swimmers travelled from all over the world including USA, Germany and Holland as well as from the UK to attend this 4 day swim camp held on Inchmurrin Island, Loch Lomond, Scotland. Each day was packed with activities and the group enjoyed swimming in this amazing and idyllic location on the loch. Accommodation was in flats on the island and each morning before swims they had a hearty cooked breakfast and afterwards a scrumptious evening meal made by the owners. Dot Scott was a star and ensured the smooth running of all this.
Julie and Chris both experienced Channel swimmers passed on all their experience to the swimming group which they all totally enjoyed hearing about. Whilst some completed six hour swims around the island escorted by safety boats and canoes, the others swam personal best distances and all achieved their goals. Dr. Julie Bradshaw and Chris Sifleet certainly catered for all swimmer abilities present.
Due to the success, this camp will be running once if not twice annually, so BOOK NOW for 2014 and ensure your place at this fun, safe and enjoyable swim camp on the shores of Loch Lomond
Here are just a few of the testimonials that the swimmers provided:
Lyndsay Francis (UK): I've very much enjoyed the boot camp. Plenty of swimming with the combination of social and meeting other Channel swimmers and exchanging stories
Andre Wierzig (GERMANY): Chris and Julie picked a beautiful location for us and in the four days I made a further step towards achieving my goal to swim the English Channel solo
Kat Baker (UK): Very good camp and met lots of nice like-minded people. Was training but fun and enjoyable at same time
Tony Rutter (UK): Well organised weekend with a good balance of water and land activities. Will definitely come again
Helen Brindle (UK): A relaxed and challenging weekend – has really inspired me to achieve my best whatever that may be
Alex Christie (UK): Thanks to Julie and Chris for sharing their experiences and knowledge. It has given me more confidence in my attempt (Channel/Two Way Windermere) and what I need to focus on. It has been an enjoyable weekend
Sarah Bowden (UK): Fantastic! Amazing location, great teaching and Channel swim support. A very positive and motivational experience.
Tracy Clark (HOLLAND/NEW ZEALAND): Thanks so much Chris and Julie for a most successful and enjoyable camp. The swims were great and felt safe. Loads of fun with like-minded people. You both were so honest and open and happy to share your experiences
Andy Monks (UK): Keep up the good work and thank you both and to all your party for all your help. I enjoyed every minute and good luck for the future
Jen Hutchinson (UK): It's a great opportunity to meet like-minded people, have fun, learn from experienced swimmers who have crossed the Channel. I have laughed alot at this boot camp
Carole Hutchinson (UK): I haven't had so much fun for a long time. It is an excellent way to meet new people and to talk about swimming, get better ideas on how the Channel swim works, get tips on improving your technique, get lots of swimming done in a really beautiful location