Swim Times Article: Three Lakes Swim Cumbria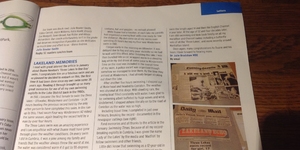 Ever thought about swimming the biggest three lakes in Cumbria? Recently Duane Newton did this in 2016 and brought back the happy memories when it was last swam in 1981. Dr. Julie Bradshaw MBE, who was given the name 'Lady of the Lakes' for all her swim record achievements in Cumbria in the 1980s still holds the record for the Three Lakes Swim (Ullswater, Windermere and Coniston). She became the First Woman to swim these in One Day and also beat the record held by the only other person to have done this swim, a man. What made it more amazing was that in those days wetsuits were not allowed as Julie swam in only a swim suit, hat and goggles in a lake temperature of maximum 12 degrees.
This swim had not been done for over 35 years until it was swam last summer, 2016. Julie was delighted to see Duane achieve this albeit in wetsuit, as it brought back the happy memeories of those days. "It is such am amazing swim to achieve and I am so delighted that after such a long time, that this swim has now been completed once more. It was also interesting to see that Julie's Four Way Windermere Swim in 1981 (42 miles) was again resurrected last year. Again this swim has only ever been done by a man whose record Julie beat by over four hours in very cold conditions (11 degrees C). However, her record still remains unbeaten.