The Big K Swim – Get Set 4 Swimming Helping Charity
n September 2016, Dr. Julie Bradshaw MBE and her Team at Get Set 4 Success (Get Set 4 Swimming) will be helping a group of nine swimmers, mostly ex-servicemen to swim the length of England's longest lake, Windermere.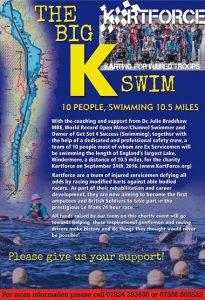 This is all for a charity called Kartforce, who are a team of injured service-men who in modified karts hope to become the first amputees and British soldiers to take part in the prestigious Le Mans race.
The group are led by veteran Bear Randell-Eyre, who wanted someone who could help him with his latest fund-raising venture so he contacted Julie aka 'Madfish' to assist him and his team with both coaching, guidance and safety cover on the water. Without hesitation Julie said she would help and has been guiding his swimmers ever since.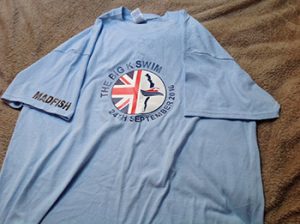 Last weekend at Bosworth Waterpark, Leicestershire, Bear's group completed the first step on this venture by passing their three hour open water qualifying swim in freezing conditions.
Of the training swim, Julie said "Everyone did so well and I am proud of how far they have all come since I saw them at my Swim Clinic last November. They have been training hard, and although a long way to go and more hard-work to put in, I am delighted with what they have achieved. It is a long swim to do and we discussed that some will do a relay whilst others swim 'solo'. I am looking forward to providing the boats and safety cover for them on the day. I can't wait to see their faces when they complete their goal."
To sponsor each of the swimmers please visit their individual Just giving pages:
Watch this space and follow their progress!