Yoga and Swimming: H2O Magazine Feature – STRIKE A POSE!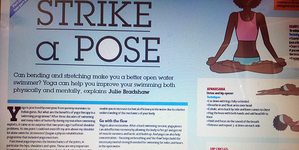 This month, Get Set 4 Success Ltd have been featured in the leading Open Water Magazine, H2Open. Over the last few years, Dr. Julie Bradshaw MBE, lead coach and MD has been including yoga in swimming services offered by her Company.
The article shows readers some useful yoga exercises specifically related to swimming, to help prevent injuries and enable swimmers in many other ways. Julie, who after three decades of breaking long distance frontcrawl and butterfly Channel records had shoulder problems herself, incorporated yoga in into her rehabilitation a couple of years ago.
Since then and together with her Team at Get Set 4 Swimming she has been using this in the various swim clinics, courses and Open Water Swim Camps she runs throughout the country. Julie is one of the few, and the first as far as she is aware to have included yoga in the swimming programme offered to swimmers.
Part One:
This article gives background and some yoga poses as chosen by Get Set 4 Swimming Yoga Teacher, Libby Jelley.
Read it here (PDF).
Part Two:
Includes five poses to improve your swimming, both mentally and physically.
Read it here (PDF).