Blackpool Pier to Pier Swim 4th September 2021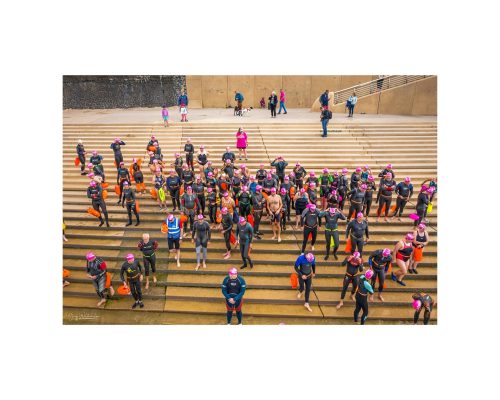 On 4th September 2021, the Annual Official Blackpool Pier Swim took place. It was an exciting event and all the more special given that it had been cancelled the previous year due to COVID.
Thanks to everyone who made it happen, the amazing volunteers from the North West Lifesaving (under Syd Holt), combined with the wonderful Blackpool Beach Patrol, who guided the swimmers safely along the course.
As always, those participating in the Blackpool Pier Swim enjoyed their tram ride to the start at North Pier and then collected their bespoke plaque. The swimmers looked really smart in their pink swim hats provided by Swimzi and matching tee shirts, too.
(Photos Courtesy of the Blackpool Gazette, Gregg Wolstenholme and the Swimmers)
Blackpool Pier Swim Article The Gazette 8th Sept 2021
Watch out as the 2022 date will be released in the next few weeks as the tide tables are now out.
2 Responses