Dr. Julie Bradshaw MBE Opens Hotel Sheraton Swimming Pool, Blackpool with Re-creation of Peter Kay's Commercial, 'Top Bombing'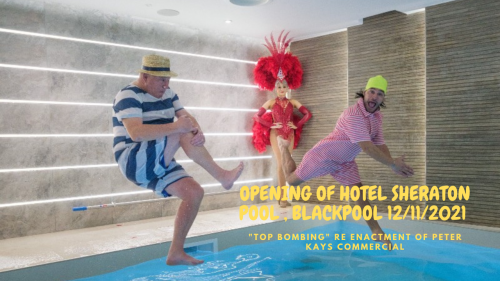 Dr. Julie Bradshaw MBE was part of a cast that recreated the iconic Peter Kay, 'Top Bombing' commercial when she opened the Hotel Sheraton Swimming Pool, Blackpool on 12th November, 2021.
Julie joined other FAMOUS faces from the world of professional swimming making a splash at the launch of the new £400,000 pool. Central to the occasion was the reprise of the iconic voiceover by former BBC swimming commentator Hamilton Bland and joined by Mexican Olympic diver Hugo Ordoñez .
Known as 'The Voice of Swimming,' professional swimming coach Hamilton Bland, from Lancashire, commentated on every aquatic event over 23 years for the BBC, including six Olympic Games, but is probably best known for his voiceover work on the original John Smiths TV advert in 2002 featuring comedian Peter Kay as one of the entrants in an international diving final. After seeing his rivals perform breathtaking manoeuvres, Kay opts for the 'running bomb'- a feet-first splashdown into the water which earns him maximum marks and the accolade of 'Top bombing' from the commentator.
This was an amazing occasion and special as Dr. Julie Bradshaw MBE explained in her speech: "to be opening a pool is fantastic. So many pools have been closing especially due to COVID, so it is great to be opening the Hotel Sheraton Swimming Pool. I started my own swimming career leading to my first English Channel Swim in 1979 (aged 15) then 23 years later breaking the World Record for the solo Butterfly swim of the same."
Dr. Bradshaw continued, "It was indeed, a privilege to be asked to open the pool and one which was thoroughly enjoyed by everyone. The event also saw the swimming race between Nigel Seddon and his Warwickshire rival, 'Q'. I was able to make yet another world record first by becoming the first and fastest butterfly swimmer to swim the 100m distance in Hotel Sheraton's fantastic new pool."
Check out Hotel Sheraton for your next stay when you visit Blackpool!
For more wonderful photos and coverage of the event, please visit:
Pool Opening & Re Enactment of Peter Kay's Commercial