Freestyle Swim Clinic Loughborough University June 14th 2014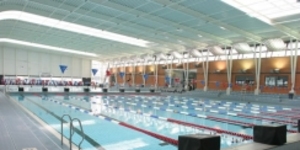 Freestyle Swim Clinic at Loughborough University
Saturday the 14th of June 2014
Half a day session at Loughborough's Olympic size swimming pool including Q&A and Freestyle and S&C presentation dry land, 2 hours pool time followed by individual swimmer video footage.
You will work on all elements of your freestyle stroke aiming to give you solid feedback to improve your technique. The Swim Clinic is suitable for Pool, Open Water and Triathlon swimmers to Intermediate Level and includes filming and video stroke analysis.
The session will start off in the seminar room at 1pm then into the pool from 2pm to 4pm, viewing your swimming footage and finishing off on poolside
Coaches on the day will be:
Dr Julie Bradshaw MBE – Multiple Swimming World Record Holder, Specialist Swimming Coach since 1979 (Pool & Open Water) and Owner of "Get Set 4 Success" www.getset4success.co.uk
And Jamie Harman – Triathlon Coach and Strength & Conditioning Specialist from Sport Perform
ONLY £80 per person
 Fees must be paid in advance to confirm your space!
Book NOW to avoid disappointment! Limited places as small group only
DIRECTIONS TO THE POOL – from the M1 Motorway, (J23) follow signs to Loughborough heading towards town. At the second roundabout after the junction you will see the building on your right. This is the swimming pool. Please meet us in the foyer
OTHER ROUTES: Follow signs to the 'University and to the M1'. You will come to Epinal Way/Ashby Road roundabout. The pool is either to the left or right of you at the University Main Entrance (front) depending which way you come in. There is a car park on your right without the need to go through security.