Freestyle Swim Clinic Loughborough University Nov 22nd 2014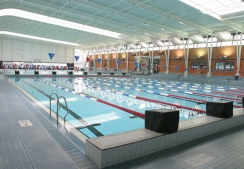 Freestyle Swim Clinic at Loughborough University
Saturday the 22nd of November 2014
Half a day session (afternoon) at Loughborough's Olympic size swimming pool including pool time for individual swimmer video footage and practical work to include yoga therapy, helping to prevent injuries and other useful aspects.
You will work on all elements of your freestyle stroke aiming to give you solid feedback to improve your technique. Practical elements will enhance your functional movement and you will gain increased awareness of how you move.
The Swim Clinic is suitable for Pool, Open Water and Triathlon swimmers and includes filming and video stroke analysis along with a Q & A session to meet your goals.
Coaches on the day will be:
Dr Julie Bradshaw MBE – Multiple Swimming World Record Holder, Specialist Swimming Coach since 1979 (Pool & Open Water) and owner of "Get Set 4 Success" www.getset4success.co.uk
And Liz Underwood – Yoga Therapist/Teacher and owner of Pure Movement yoga (www.puremovementyoga.co.uk)
ONLY £99 per person
Fees must be paid in advance to confirm your space!
Book NOW to avoid disappointment! Limited places as small group only
Contact Julie at www.getset4success.co.uk
PLEASE NOTE THAT DUE TO POPULAR DEMAND ANOTHER OF THESE SWIM CLINICS WILL BE HELD ON SATURDAY MARCH 28TH, 2015. BOOKINGS ALREADY BEING TAKEN SO GET IN TOUCH NOW