International 14 Way Windermere World Record Relay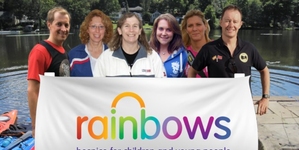 Dr. Julie 'Madfish' Bradshaw MBE is making a splash to add an extra world record to her collection this summer by taking on another tough challenge. On Monday 11 August, Julie (50), of Loughborough, will lead an international team aiming to complete the world's longest lake swim by a standard relay team of six. Between them, they will swim 147 miles non-stop in just 86 hours – which is 21 miles further than the current record set in 2011.
If successful, this will be the 21st personal long distance swimming world record that Julie has secured. The team will also be seeking sponsorship for the challenge, which will go towards Rainbows Hospice for Children and Young People in memory of Susan Taylor. Susan lost her life while attempting to swim the English Channel for Rainbows last year. Susan, who was also a close friend of Julie's, had planned to be part of the team.
Julie said: "I am really excited about this challenge and have a great team, having coached all of the swimmers. The swim will take place over three days which means we are in and out of the water overnight and will get little sleep whilst staying on the boat for that time.  I have done various long relays in the past and know how tiring it gets. But teamwork will get us all through.
"Although Susan isn't around to swim with us, I know she will be there in spirit and I will be thinking of her all the way. The relay swim will also be an extra birthday present for me as I turned 50 this year. Fourteen Ways of Windermere in 2014, the lake where I began my swimming career back in 1977 and we aim to complete it on the 14th (August) as well. It will certainly be a Happy 50th."
Other team members are Bridgette Hobart, USA; Georgina Tuffin (UK), Daniel Bryson (UK), Andrew Koval, and Lisa Auchinvole (UK), Each participant will swim for one hour in relay succession until 14 laps, starting from Ambleside to Lakeside return, are complete.
Julie added: "The relay will be done under Channel Swimming Association and British Long Distance Swimming Association rules which only permit a standard swimsuit, hat and goggles. There will be no wetsuits."
Please follow the news on www.getset4success.co.uk and there will be regular updates on Twitter and facebook.
To sponsor contact Julie either via her website or click here to make a donation. This is my Team'sJust Giving link, as it has been promised to us that any donations will be matched up to £5000. So let's Get Giving and thank you in advance