"Madfish" Julie Out of Water to help Archie in Charity Event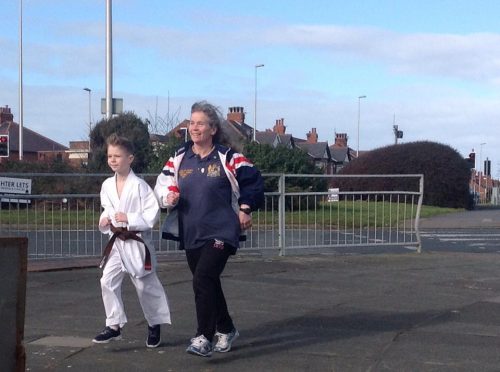 Loughborough's own World Record and English Channel Swimming superstar, Dr. Julie Bradshaw MBE (nicknamed 'Madfish') is going the extra mile this time on land rather than in water. She is joining a host of celebrities, including Daniel Whiston (Dancing On Ice) and other famous sporting figures in a charity event on Wednesday March 4th at Stanley Park, Blackpool where she will join Archie Brown in his 10km run to raise funds for his trip to Las Vegas to represent Great Britain in the US karate championships. Dr. Bradshaw was born and bred in Blackpool befoe moving to do a degree at Loughboorugh University where she has lived ever since.
Julie first heard about Archie through the Picture Framing Centre in Blackpool, who frame all her world record swimming certificates (over 20 to date!).
As Archie's Mum, Naomi Brown commented, "The community spirit from the people of Blackpool has been unbelievable but none of it could have even started without
The Picture Framing Centre Blackpool and Grand Master Samuel Kwok who told us not to give up and to get Archie to Las Vegas."
Dr.Julie Bradshaw MBE told the Echo. "I know that karate is not currently funded as an Olympic Sport and when I heard that Archie Brown, only 8 years old, needed financial help to get him to Las Vegas to compete in this event, it really was a no brainer for me. I immediately said I would travel and join him in this event to raise his much needed funds. Having been a young starter in sport myself, I know how important it is to get finances for events. My parents had to raise the entire amount for my first English Channel solo swim when I was 15 years old. I am so glad they did, but it was extremely hard for them. I don't want to see Archie go through the same thing."
Archie will be running 10km at the track and will be hoping to raise in excess of £3000 to cover him for the trip Vegas. The total distance this amazing 8 year old will run is 10km, 25 laps and he has got many people so far to join him to encourage him along the way.
Dr. Julie Bradshaw MBE who owns Get Set 4 Success Ltd is set to join other sports stars and celebrities including Daniel Whiston (Dancing On Ice) on the day and hopes to help raise Archie's profile in doing so. To sponsor Archie please visit www.archiebonsai.co.uk or contact Julie either on her facebook or via her website for more information www.getset4success.co.uk
Archie and Julie spoke with Graham Liver on Radio Lancashire a few days after meeting up. Click on the play button to listen to the full Interview.