Two Way Windermere Medley Relay Record for Julie and Team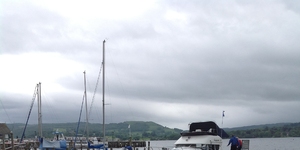 On Saturday June 29th Dr. Julie Bradshaw and her other intrepid swimmers began a Medley relay swim of Windermere. It was not just a single length but a Two Way swim of 21 miles. Never before had a Medley been attempted on England's largest lake, Windermere.
The total distance covered was 21 miles and each swimmer swam for an hour each in rotation until completion of the swim. Julie nicknamed 'Madfish' because of all her extraordinary swimming feats since 1978, swam all the butterfly 'legs'. A leg by the way is an hour each of the swimmer's respective stroke.
They started off on backstroke with Dr. Susan Ractliffe, followed by Pete May doing breaststroke then Julie on her 'favourite' stroke butterfly and Susan Taylor completed the 'rotation with frontcrawl. The air temperature was maximum 11 degrees throughout the swim and water temperature averaged a 'warm' 13 degrees throughout!
They were escorted on their swim by crew Chris Green and Beverley Thomas, both of themselves great swimmers having completed may long distance swims such as Windermere, Coniston, Manhattan Island and many more.
For more photos and videos please visit Julie's facebook page https://www.facebook.com/julie.bradshawmbe and on Twitter https://twitter.com/getset4success
and never miss out on anything so join her on social media
For Julie this added to string of swimming records accumulated over the years her most recent one being her  Butterfly Manhattan swim in 2011 (28.5 miles)which she completed in 9 hours and 28 minutes. Prior to this Dr. Julie Bradshaw MBE had broken the World Record from swimming the English Channel by over nine hours, her time being 14 hours 18 minutes in 2002. Julie has raised much needed funds for charities over the years, and in this decade it has been Rainbows Children's Hospice.
The Windermere Medley relay is a warm up for Julie's next Butterfly World Record attempt, on the River Humber in August 2013 – weather permitting. To sponsor Julie please go to the homepage on her website and click on Humber Swim www.getset4success.co.uk