Get Set 4 Success Ltd Proudly Announce
The 2021 Blackpool Pier to Pier Swim
The Official Annual Blackpool Pier to Pier supported by Blackpool Council will take place on 4th September, 2021. If you want a fun challenge then join this amazing and iconic Open Water Swim between the Three Piers, swimming from North to South Pier in Blackpool's seaside holiday resort. This swim is a MUST to do for all open water swimmers. There is also a non-wetsuit category.
Through the Pier Swim Get Set 4 Success Ltd (Events) works to promote LoveMyBeach a charity who along with other partners such as Keep Britain Tidy ensure the cleanliness of our beaches, bathing waters and our wildlife.
For more details go to www.lovemybeach.org
Get Set 4 Success Ltd are not giving out just standard medals…no, certainly not! In fact all finishers receive a fabulous bespoke momento of the occasion along with a t-shirt with a commissioned artist impression on the front. We continue to work very hard to make this Pier Swim one to remember and one that you will continue to return to every year and with friends.
The Pier swim happened some years ago and was then stopped. Get Set 4 Success Ltd in July 2018 brought back this swim. Julie Bradshaw who was borne and bred in Blackpool worked with her Team and the Event was a huge success. This is a superb stretch of water as you will see in the video above, taken from the inaugural 2018 Pier Swim and below is the 2019 one:
You will start at North Pier and finish at South Pier and all gather together at our beautiful venue, The Sand Castle Water Park to celebrate your achievement. The total distance is approximately 1.6 miles. To get you safely to the start you will travel from South Pier to North Pier in one of Blackpool's beautiful trams and pass by all the wonderful sights on your way such as the Tower and along the Golden Mile. What more could you want in a Swim Event?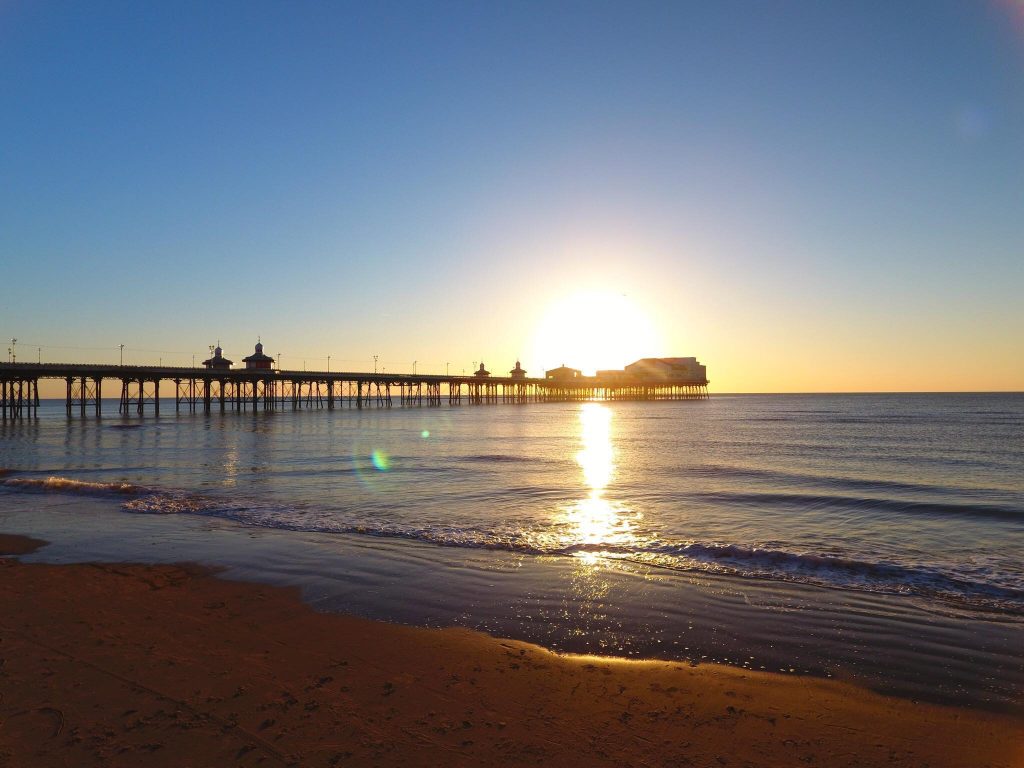 This will take place on Saturday 4th September, 2021 although there will be the alternative date of Sunday 5th September, should the weather be unfavourable for a swim on Saturday. The cost for this exciting Event is only £58 (**) (refund protection payment optional). Places are limited so please be quick!
AND DOLPHINS WERE SIGHTED AGAIN…AHEAD OF THE 2021 SWIM!
CONTACT us now to book your place
To enter directly click on the link to Entry Central below:
Stringent Health and Safety rules attached to this Event mean that safer swimmer tow floats (preferably orange coloured) are mandatory for ALL swimmers. The Blackpool Pier Swim is a fun, participation event which has a non-wetsuit category providing you have suitable open water swimming experience.
Please also visit our Facebook page for the Blackpool Pier to Pier Swim
And our Facebook Blackpool Pier Swim Community Group
Open Water Health and Safety Advice
ALL swimmers are asked to adhere to Covid guidelines. You will be asked upon sign up to declare that you and your supporters will abide by the Organiser's rules in respect of Covid and stay safe rules as per Government guidelines. Should you experience any symptoms (a high temperature or continuous cough), then you agree that you will not attend this event, inform the organiser and stay at home and seek advice by using the 111 service.
Swimming in open water can be arduous and it is very important that every precaution is taken to eliminate risks of threat to health and possible death. Below are a few links that have been written by various organisations. Please read:
https://nationalwatersafety.org.uk/advice-and-information/open-water-swimming/
https://www.sta.co.uk/news/2014/06/18/sta-open-water-swimming-advice/
http://rlss.org.uk/water-safety/water-safety/water-safety-in-open-water/
How to reduce the risk of illness when Open Water Swimming (by Public Health England)
https://www.gov.uk/government/news/new-guidance-on-reducing-the-risk-of-illness-when-open-water-swimming

Bathing Water Quality: Please ensure you familiarise yourself with this. (see information at end below)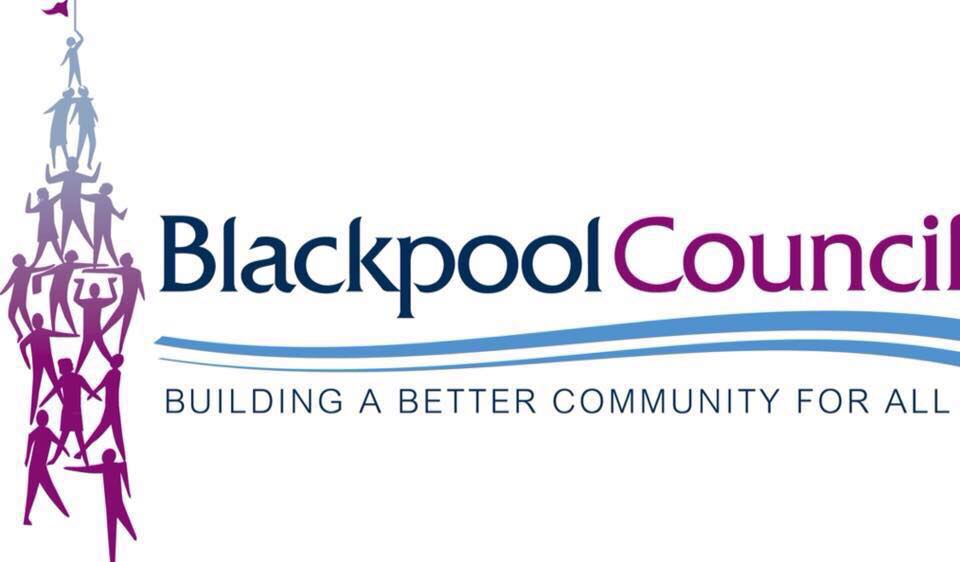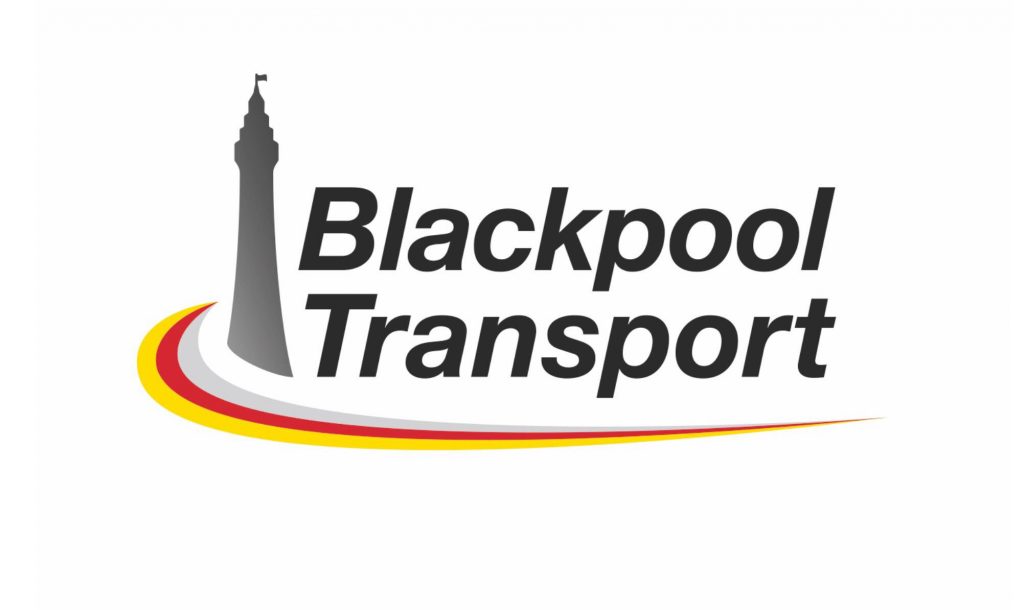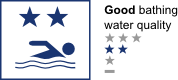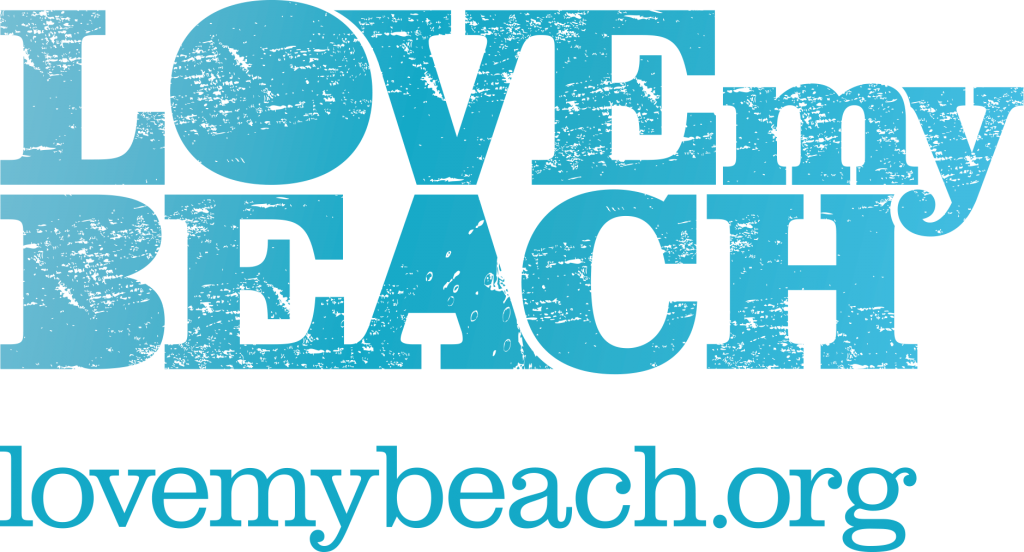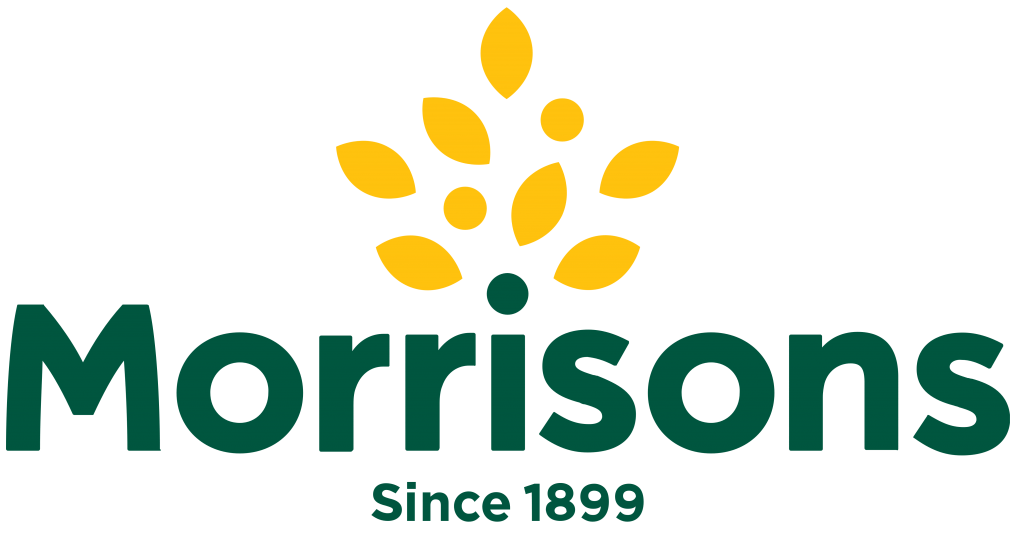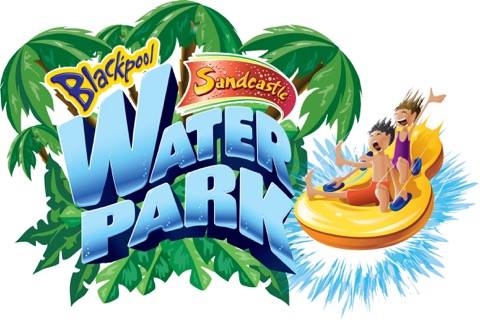 SCHEDULE FOR THE DAY – SATURDAY 4th SEPTEMBER 2021
This will be finalised in the coming months and based on previous years programme. Due to the ongoing pandemic, the organiser reserves the right to change this (timings and registration including location/format etc)  in the interest of safety to everyone involved. To give you an idea below is the 2019 one:
Please read carefully and if you have any questions then just get in touch via our contact page.
6.15am Safety Briefing for Staff & Volunteers (Sandcastle Water Park)
7am to 745am Swim Registration opens (Sandcastle Water Park).
Please note you will need photo ID to register

8am – 815am Swimmer Safety Briefing (Sandcastle Water Park)
830am to 845am: Swimmers take the tram to the start at North Pier. Each swimmer wearing their numbered wristband will be checked in upon boarding the tram outside the Sandcastle
9am: Swimmers meet by Get Set 4 Success 'START' sail flags at North Pier for start of swim and further briefing/updates
There will be a TEN and FIVE minute warning signal for the start of the event. Please note you MUST be wearing your wrist band and green swim cap (provided) and a safer swimmer/tow float in order to begin your swim. Anyone not wearing this equipment will not be allowed to enter the water.
9.30am Start of Swim
After the start of the event the Tram returns to South Beach, Sandcastle Water Park.
Swim Finishes
You will have approximately 1.5 hours to complete the course. Anyone who is unable to do so in the time will be pulled from the water by the Beach Patrol and escorted safely to shore.
Each swimmer must give their numbered wrist band to the official upon completion of the swim. Bespoke plaques will then be handed to every participant
Here is the course from the 2019 swim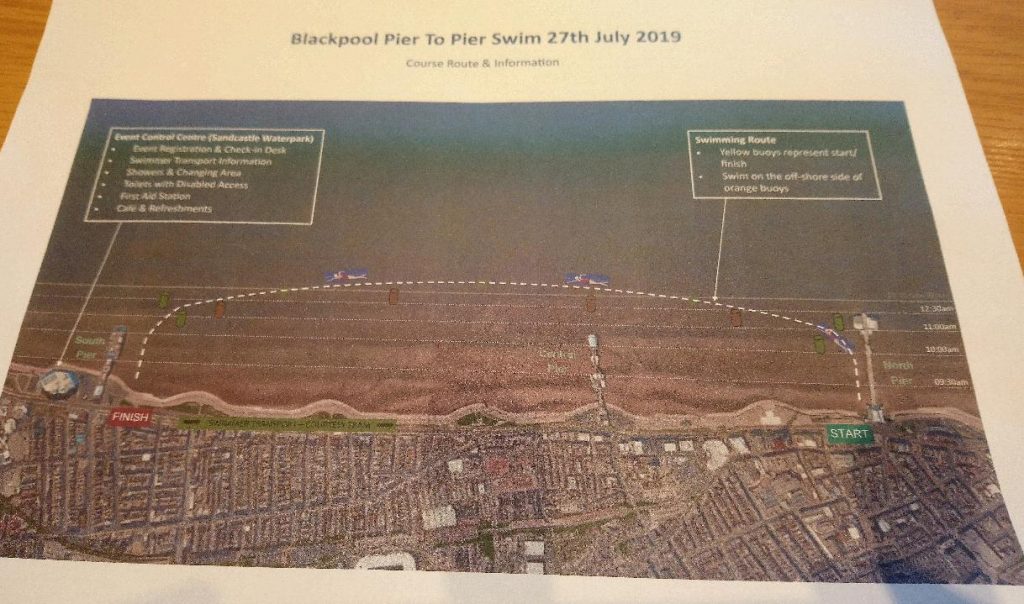 ADDITIONAL INFORMATION AND UPDATES TO THE DAY.
Each swimmer will be allocated a number usually the one they signed up to on Entry Central. Please ensure you have that printed off and with you, too for registration purposes in addition to your photo ID.
Between the swimmer briefing and the Tram ride to to the start, each swimmer will change. Belongings can be kept safely in lockers provided at the Sandcastle Water Park. This is a £2 and refundable.
Refreshments will be available for swimmers in the area adjacent to the log flume by South Pier (next door to the Sandcastle) . Banners and flags will denote the place
We look forward to seeing you in Blackpool. Thank you for your entry.
THE EVENT MANAGEMENT TEAM BLACKPOOL PIER TO PIER SWIM 2021
*********Bathing Water Quality*********
The Environment Agency takes up to twenty water samples at each of England's designated bathing waters during the bathing water season between May and September each year. A classification for each bathing water is calculated annually based on samples from the previous four years. These classifications are, from best to worst:
If water is classified as poor, then a sign advising against bathing will be displayed. However the beach remains open for people to enjoy.
The use of standardised symbols for the four classes, which all countries in the EU have to use at bathing waters across Europe, helps people make informed choices on where to swim when home and abroad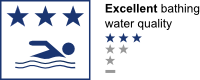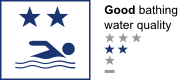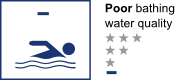 A sample tells us the quality of the water at that specific time, but water can change even over the course of one day. In each sample we test for bacteria that indicate whether there isfaecal matter in the water. The bacteria we test for are:
When more of these bacteria are present in a bathing water there are greater risks to bathers' health. The standards we use are specified in the Bathing Water Directive and are based on World Health Organisation research which recorded the incidence of gastrointestinal disease (stomach upsets) in people bathing in waters of differing bacterial concentrations.
Water quality changes over time, even in the course of one day. This may be due to: These water quality warnings are shown on the main map on the home page, profile pages for individual bathing waters, and the compare bathing waters page. They are indicated by a warning circle icon .
Heavy rain or tides washing pollution into the water that flows into a bathing water from the surrounding catchment. At sites where this is known to occur, this risk is assessed by daily Pollution Risk Forecasts (PRF) and if an increased risk is forecast, a pollution risk warning is issued along with advice against bathing.
On rare occasions pollution incidents can occur which may affect water quality. If a pollution incident occurs that may affect bathing water quality we will issue advice against bathing. We consider whether the samples counted towards a site's classification should be suspended during these incidents, in which case the incident is known as anabnormal situations.
These water quality warnings are shown on the main map on the home page, profile pages for individual bathing waters, and the compare bathing waters page. They are indicated by a warning circle icon .
Water Quality Assessments
Designated bathing waters in England have tough water quality targets to achieve.
The classifications are based on a detailed statistical analysis of the sample measurements taken over a four year period. If a step change in quality has occurred because of an improvement action such as new sewerage infrastructure, only data collected since the action will be assessed.
The analysis groups bathing waters into classifications based on the probability that most of the time concentrations of Escherichia coli (EC) or Intestinal enterococci (IE) will be below classification thresholds, there are no 'pass' or 'fail' standards. All the samples are combined and the classification is based on a statistical measure, known as the percentile which measures the probability of high results occurring. The classification uses either the 95% or 90% percentile depending on the classification (see below). It's important to note percentiles are not limits that apply to individual samples
The criteria for coastal bathing waters and inland bathing waters are different. The thresholds for classifications are as follows:
Classification
Thresholds
Confidence level
Coastal Bathing Waters
Excellent
EC: ?250 cfu/100ml ; IE: ?100 cfu/100ml
95th percentile
Good
EC: ?500 cfu/100ml ; IE: ?200 cfu/100ml
95th percentile
Sufficient
EC: ?500 cfu/100ml ; IE: ?185 cfu/100ml
90th percentile
Poor
means that the values are worse than the sufficient
Inland Bathing Waters
Excellent
EC: ?500 cfu/100ml ; IE: ?200 cfu/100ml
95th percentile
Good
EC: ?1000 cfu/100ml ; IE: ?400 cfu/100ml
95th percentile
Sufficient
EC: ?900 cfu/100ml ; IE: ?330 cfu/100ml
90th percentile
Poor
means that the values are worse than the sufficient
Key EC: Escherichia coli, IE: Intestinal enterococci, cfu: Colony Forming Units
For planning purposes the Environment Agency uses unofficial classifications based on these standards for samples collected during years before 2015. These classifications use data collected using different analytical methods for data prior to 2012 and are therefore approximations of the class that the bathing water would have achieved if the new bathing water quality standards had been in force.
Prior to 2015, classifications are included on this website to show the history of bathing water quality. These are marked with a p icon. The official classifications before 2015 are based on the old standards and can be found here or on the water quality data pages of this application.
If water is classified as poor, then the symbol for "poor" together with a sign showing advice against bathing must be displayed in the following year. A sign displaying a "poor" classification and advice against bathing does not mean bathing is banned or that a beach is closed, beaches remain open for people to enjoy.
Short term pollution
If a PRF coincides with a routine water sample, it may be classed as Short term pollution (STP). STP is bacterial pollution that occurs at a bathing water and is not expected to last for more than 72 hours. Management actions to deal with STP are designed to help protect the public from predictable pollution of short duration at a bathing water. Compliance samples taken during events which are defined as STP may be removed from the compliance dataset.
An additional sample has to be collected by the Environment Agency after the STP event to confirm its end. This end sample cannot be used for classifications.
Up to 15% of samples used in the classification data may be removed over the four year period. This discounting assessment is made at the end of each monitoring season and is shown in the data by the discounted field.
DISCLAIMER
By reading this information you confirm that you have understood and acknowledge that you recognise there are risks of swimming in open water and that by entering the water on the day you participate entirely at your own risk having agreed to the T&C on all websites. You hereby, aware of these, assume the risks of participating in these events and on your own behalf and on the behalf of your executors, administrators, heirs, next of kin and whomever: – agree to waive any claim and to release and discharge from any claim which you or they may have in respect of death, disability, injury, property loss or damage as a result of or while You are participating in this event, the event organisers, directors, sponsors, officials administrators or volunteer helpers – You shall at all times hereafter agree to fully indemnify and keep indemnified the Company Get Set 4 Success Ltd and Dr. Julie Bradshaw and all other persons mentioned immediately above for any or all liabilities or claims made against them as a result of my behaviour in this event. Said waiver, release, discharge and indemnify to extend to liability for negligence under common or statute law.
(**) By making payment of £58 (+ Entry Central booking fee) for this Event via Entry Central above it is deemed that you have read, agreed and understood all the T&C, rules and information pertaining to this Event. You acknowledge that entry fee and associated costs are non-refundable, to include but not limited to cancellation of the Event due to circumstances outside the control of the organiser and force majeure. In this case your entry fees are automatically transferred to either another event or alternative date for the same Event. Whilst we operate a no refund policy, should the date be unsuitable for whatever reason, then refunds (minus admin charge and any associated costs incurred such as purchase of plaques and tee shirts for you) may be given to you and are at the discretion of the organiser. By entering you agree to be bound by all of the above and by registering on the day of the Event it is deemed that you have also read, agreed and understood any and all amended and published T&C, Rules and Event information relevant to the Pier Swim Event and as shown on this website link: 
http://www.getset4swimming.co.uk/blackpool-pier-to-pier-open-water-swim.html
and agree to be bound to them.