English Channel Swimming - Coaching and Training including Online Programmes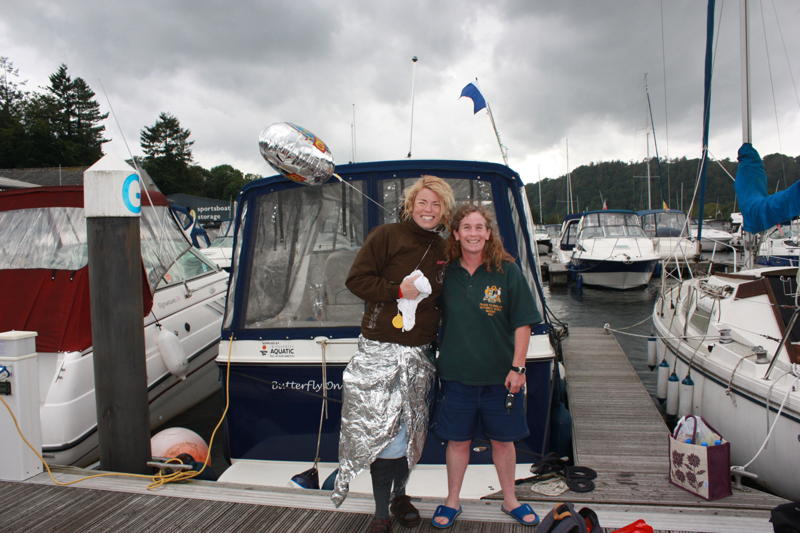 Wanting to Swim The English Channel? Then you are in the right place. The Sport of English Channel Swimming traces its origins to the latter part of the 19th Century when Captain Matthew Webb made the first observed and un-assisted swim across the Strait of Dover – swimming from England to France in 21 hours and 45 minutes. To date, there have been approximately 2000 successful swims of the Channel and have included swimmers all over the world, as well as solos and relay swims.
Julie's first solo swim of the English Channel was aged 15 and in that year, and was swimmer number 174 with a British Junior Record time of 10 hours and 9 minutes that stills stands today. The swim itself is a distance of 22 miles in a straight line; however, due to the tides and currents swimmers swim much more. For example, on her Butterfly World Record solo Channel swim in 2002, she covered 29 miles in 14 hours 18 minutes. This was seen on Julie's chart, which was given to her after her swim.
Swimming the Channel is not just about getting in and swimming. It's much more than that. You need the right Channel Swim Training programme. This is where the Channel Swim Coach and Trainer (Dr. Julie Bradshaw MBE 20 times World Record Holder) with excellent knowledge of the English Channel swim is SO useful – over 37 years involvement both in breaking records and coaching expertise in the field of English Channel Swimming
Julie is the only professional specialist qualified coach in the world within the English Channel Swimming community having over 37 years of continual experience in the sport and with so many long distance and English Channel world swimming records. After deciding on a Channel swim, you have to book your boat. even before you embark on a Channel Swim Training Programme. The Channel Swimming pilot vessel is very important, in what is classed as the busiest shipping lane in the world. The boat IS your best friend during the swim and the pilot is the person with the expert knowledge of tides, course and weather (given our weather in the UK!!). So once the boat is booked, what's next?
Registration – register with the appropriate Channel Swimming Organisation (CS&PF) approved by both French and English Coastguards
2. Channel Swim Leisure Training & Coaching Programmes & Online Swim Coaching Programmes (Sport Performance/Bespoke Channel Swim Training Programmes)
This is about the MIND, BODY, SPIRIT relationship. And without the correct mental attitude, no matter how much swim training you do, then forget it. When you are out there, you have to be totally positive and focused. Julie has been through it successfully several times. There's the Channel swim training (mileage and of course technique) feeding, cold water acclimatization (outdoor/openwater swim training), and so much more. Having a Channel swim coach is very important, and Julie definitely 'walks the talk'.
What does Get SET 4 Success Ltd do for you?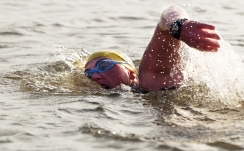 Along with Life Coaching (Mind-Set for Success) and being a qualified teacher and swimming coach (Head Swim Coach in Canada and in Leicestershire), you get the whole package:
Tailor made ONLINE Channel Leisure Swim Coaching/Training & Sport programmes, and FACE TO FACE including coaching of stroke and resources. Continual coaching support taking you to up to the day of your swim ie. two years maximum. (Platinum package extends beyond this, so do ask at time of booking)  (click here)
Psychological component ('What do you want?') and we focus on what you want, believe me. We also work on eliminating anything that may be holding you back from achieving your dream, your fears and problems, any limiting decisions and negative emotions, so that you are left feeling empowered and completely ready to take on the challenge, overcome it and to achieve more than you'd ever hoped of.  That's right – taking you on your journey via a proven step by step process to get you from where you are now to where you want to be.
Julie's own shared experiences, which are proof that her way REALLY does work, and together make it work FOR YOU. Each of us is unique and has all the resources we need within. And we find the way that is yours, and only yours, thus maximizing and expanding upon your potential. Only contact us if you want to make your dream a reality.
Nutrition: find out what Julie has used and still does both during her swim and in the run up to keep her immune system healthy and in peak condition. You are can do your six and two hour qualifying swims for both Channel solo and relay. There is also the opportunity to swim Windermere and Loch Lomond, both idyllic settings. We are the only business in the world offering these two premiere swims in the UK, as well as the shorter Cumbrian Lakes – Coniston and Ullswater
"Get SET 4 Success: The Future of English Channel Swimming, Leisure Swim Coaching and Training Programmes Now!"
"To me, the sea is like a person – like a child that I've known a long time. It sounds crazy, I know, but when I swim in the sea I talk to it. I never feel alone when I'm out there."
Gertrude Ederle (First Woman to swim The English Channel)
To listen to Julie talking about her illustrious swimming career click here now
and
RADIO 2 Live April 15th 2011 (scroll to 1hr 43mins)
---
Also available for your Channel Swim Training needs are:
Accompanying you on your English Channel swim
Mindset (Psychological Performance Element of the English Channel Swim)
Six and Two Hour qualifying swims for the English Channel
Openwater Night Swimming Training